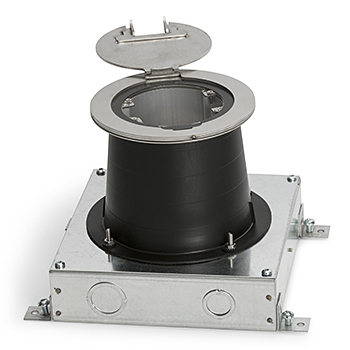 MOI-SLB-REC (Recessed In-Slab)
Customizable Dual Service, Recessed Round Concrete Box The Recessed MOI-SLB-REC multi-connect is a dual service, round, flush to concrete floor box that provides easy access to power, voice, and data connections in unobstructed flush-to-floor required
---
---
---
Product Description
Customizable Dual Service, Recessed Round Concrete Box
The Recessed MOI-SLB-REC multi-connect is a dual service, round, flush to concrete floor box that provides easy access to power, voice, and data connections in unobstructed flush-to-floor required applications. The recessed connections allow the hinged cover to be closed while cords are in use. The attractive appearance and innovative design create option flexibility and functionality, the box is scrub test rated for any scenario and UL rated for the USA and Canada, it is also CSA approved for Canada. Choose your exact slab depth to meet your installation needs.
The box is completely customizable with your choice of color, lid type, depth, and keystone openings.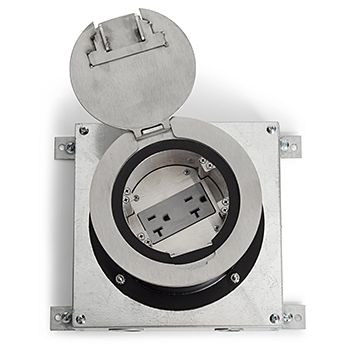 Available cover and color options:
AHC-CED: Articulated Hinged Cover with Cable Exit Door (Brass, Stainless Steel, Black)
Specifications
Totally enclosed and partitioned compartments for Power / Voice / Data in one unit
4 to 10 jacks for Voice and Data in one unit
Completely flush with 1/4″ carpet or other flooring
Slab Unit can be poured into slab for Slab-On-Grade construction
Recessed configuration allows for cover to be closed while in use
UL Listings:
CSA #: 212271
Meets all UL standards required for the U.S.
Certifications and Compliances
[wpv-woo-products-rating-listing]