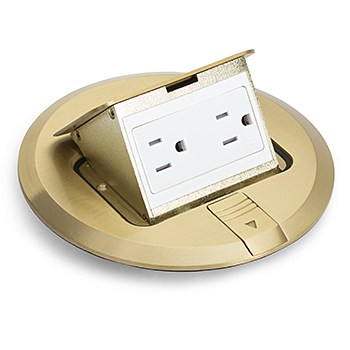 PUFP-BD
6″ Brass pop up floor plate with 15 amp (TR) decora receptacle The Lew Electric PUFP-BD is an indoor floor box that provides duplex power in a hidden and attractive pop up. When closed the pop up is hidden in your floor, all you see is a stylish r
---
---
---
Product Description
6″ Brass pop up floor plate with 15 amp (TR) decora receptacle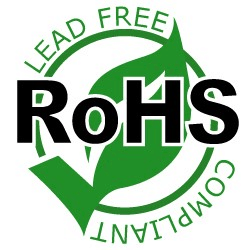 The Lew Electric PUFP-BD is an indoor floor box that provides duplex power in a hidden and attractive pop up. When closed the pop up is hidden in your floor, all you see is a stylish round brass top. When you push the slide button the top tilts open revealing the power outlet. The outlet is 15 amps with tamper resistant plugs, and is UL listed. This pop up is perfect for any locations where you need hidden power, or locations where a wall out is not available. The unit as a whole is UL listed, it is also cUL recognized for Canadian installations. In the closed position the top is UL compliant to keep out dust and scrub water.
The pop up is a perfect choice for indoor residential or commercial applications in wood or concrete floors. The backbox is not included, to use in wood you must purchase the PUFP-WB backbox. To use in concrete you must purchase the PUFP-HB back box. After installing your back box, run the wire through the knockouts and to the outlet.
The box is an excellent choice for any commercial or residential application that needs affordable power supplied in a stylish pop up, purchase a wood or concrete back box to for your installation requirements.
Specifications
Requires PUFP-LRA to mount to FB box UL recognized components: PUFP series UL recognized 498; ETL listed P63
Top: Brass
Back box sold separately
UL rated for USA installations
cUL rated for Canadian installations
Outlet: 15 amps
Top: 6″ round
Tamper resistant (TR) plugs
Indoor residential or commercial installations
UL listed receptacle
Scrub water rated
1 year warranty
Certifications and Compliances
[wpv-woo-products-rating-listing]