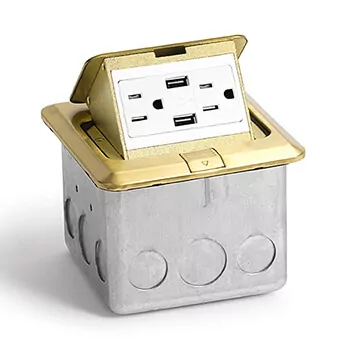 PUFP-SQ-BR-USB
Pop Up floor plate assembly with 15A (TR) duplex Power/2USB Receptacle – Brass
---
---
---
Product Description
Pop Up floor plate assembly with 15A (TR) duplex Power/2USB Receptacle, Brass
Great for residential and commercial floor applications. Can also be used in desktop applications.
Key Features: Receptacle is hidden when not in use. Scrub watertight construction.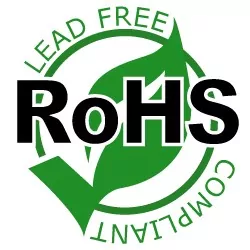 The Lew Electric PUFP-SQ-SS-USB is a pop up floor box designed to be hidden in the floor where it is not possible or convenient to have a wall outlet. When in the closed position the outlet is hidden under the floor. When power is needed, simply pull the spring-loaded tab and the top raises up. The outlet is a 15 Amp rated duplex/2USB with tamper resistant (TR) plugs.
The pop up features an IP44 water rating and is splash rated. There is also a gasket under the bezel to prevent water intrusion from underneath the cover.
Specifications
15A DUPLEX/2USB
Brass metal top
IP44 Splash proof rated
Tamper resistant outlets
Hardwired power
Waterproof gasket under bezel *Consult with electrician and inspector before ordering
Includes PUFP-CT-WB box shown in picture
Bezel dimensions: 4 3/4″ X 4 3/4″
Cutout dimensions: 4 1/8″ x 4 1/8″, ***It is recommended to have the product in hand before cutting***
PUFP-CT-WB BOX dimensions: 3 1/8″ x 4″

Conforms to UL STD.514A and 498;
Certified to CSA STD.C22.2.; No.18.1-04 and
42-M1984; LEW ELECTRIC FITTINGS CO
C-ETL-US #4004534
Certifications and Compliances
PUFP-SQ Series Safety and Certifications:
ETL listed for USA installations, # 4004534
cETL listed for Canada installation, # 4004534
CSA approved for Canada, #C22.2
Conforms to UL 514A and 498
UL listed receptacle: E491706
Water protection: IP44 Spill proof rated top
Tamper resistant (TR) plugs
Gasket under bezel to keep water out
RoHS and Proposition 65 compliant
1 year warranty
[wpv-woo-products-rating-listing]