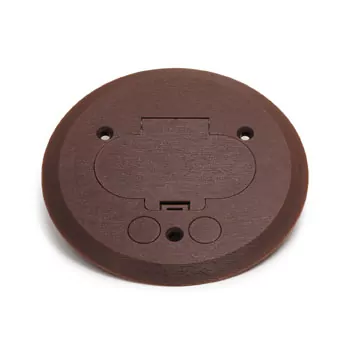 PFC-B
5 3⁄4-inch Plastic Flanged Cover with Single Flip Lid and two low volt cord pass through openings, Brown
---
---
---
Product Description
5 3⁄4-inch Plastic Flanged Cover with Single Flip Lid and two low volt cord pass through openings, Brown
The Lew Electric PFC-B is a 5 3⁄4-inch brown plastic cover for round floor boxes. The cover features a single hinged lid and two removable 1⁄2-inch plugs that serve as pass throughs for low voltage cords.
The cover comes with 3 mounting plates and the required screws:
GFI MOUNTING PLATE for GFI and Decora receptacles
DUPLEX MOUNTING PLATE for standard 15 and 20 amp receptacles
SINGLE HOLE MOUNTING PLATE for single phone line or single receptacles.
Specifications
Cover/flange only, box sold separately
Material: Brown plastic
Style: Single hinged lid with 2 keystone ports
Cover dimensions: 5.63″ round
Includes plate screws and duplex mounting plate
Warranty: 1 year
Certifications and Compliances
[wpv-woo-products-rating-listing]