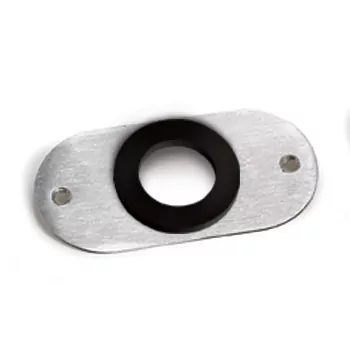 206-A
Nozzle plate for single receptacle or cable. The Lew Electric 206-A is an aluminum nozzle plate for the FDN-200-A and FDN-300-A floor nozzles. The plate has 1 hole in it that can be used as a single receptacle, or as a cable pass through. The dimension
---
---
---
Product Description
Nozzle plate for single receptacle or cable.
The Lew Electric 206-A is an aluminum nozzle plate for the FDN-200-A and FDN-300-A floor nozzles. The plate has 1 hole in it that can be used as a single receptacle, or as a cable pass through. The dimensions of the plate are 4″ x 2″ x .06″. Each floor nozzle requires 2 plates.
Specifications
Each Floor Nozzle requires two plates.
Material: Aluminum 1 hole for receptacle or cable For FDN-100-A, FDN-200-A floor nozzle Each floor nozzle requires 2 plates Dimensions: 4″ x 2″ x .06″ Warranty: 1 year
Certifications and Compliances
[wpv-woo-products-rating-listing]