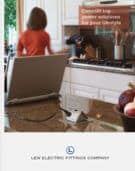 Great For: Kitchen counters, kitchen islands, desktops, home office, schools, retail outlets and hotel rooms.
Key Features: Eliminates dangerous cords hanging from kitchen counters. Now includes self testing GFI receptacles as standard. Solves the need to have power where a wall outlet is not possible in kitchen. 2USB models: plug any device into self learning chargers.
The Lew Electric PUFP-CT is a power outlet pop up box designed to be hidden in your kitchen countertop or any location that might encounter water. When in the closed position all you see is a colored top with chrome trim, when you need power simply press the button and the outlet pops up so you can plug in. The outlet is 20 Amp rated, integrated GFCI protection, tamper resistant (TR) plugs, and a weather resistant (WR) outlet. The pop up features an IP44 water rating and is splash rated for wet location installations, there is also a gasket under the bezel to keep water from getting underneath the pop up.
The pop up was specifically designed to meet code for kitchen and wet location installations, it meets National Electrical Code (NEC) 406.5E for countertop use in the USA and Canada. The outlet is tamper proof and is UL listed, the pop up as a complete unit is ETL listed for USA installations and cETL and CSA approved for Canada installations.
The pop up only needs 2.25" of space under a 3cm countertop, and requires a 4 1/16" x 4 1/16" hole to be cut to be installed. Included is a metal back box that attaches to the underside of your countertop with glue for stone, or screws for wood. The outlet does not have a power cord, simply hardwire your power into the outlet by first running it through the knockouts in the rear of the back box.
The Lew Electric PUFP-CT meets code for kitchen countertop installations but can also be used in any other potentially wet location that requires recessed power such as airports, restaurants, bars, and hotels.
To open simply push the button and hold till it is fully open and the latch will will keep it locked in the tilted position so you can plug in your power, to close push the button again and push shut till it latches. The Lew Electric Kitchen Countertop Pop Up Outlet (PUFP-CT) is an economical table box that can be used in a variety of settings where you need a couple power outlets including; conference tables, waiting areas, kitchens, bars, and much more. Installation is easy and allows this to be installed almost anywhere on any table surface, simply cut your hole and drop the box in and secure with 2 screws. The power must be hardwired to the outlet in the table box, please consult an electrician. *Includes back box shown in picture.

Specifications:
Colors: Stainless steel, black, Dark Bronze, Nickel Silver, Off-White, Brass
Includes back box shown in picture
Installs in kitchen countertops, desk tops, tables, and similar surfaces
Outlet: 20 Amp GFCI
Tamper resistant (TR) plugs
Weather resistant (WR) outlet
Meets NEC code 406.5E for countertops
ETL listed for USA installations, # 4004534
cETL listed for Canada installation, # 4004534
CSA approved for Canada, #C22.2
Conforms to UL 514A and 498
UL listed receptacle, # E60120
Water protection: IP44 splash rated
Gasket under bezel to keep water out
Bezel size: 4 7/8" x 4 11/16"
Cutout size: 4 1/16" x 4 1/16"
Depth under 3cm counter: 2.25"
Back box dimensions: 3 15/16" x 4"
Works in counter thickness 1/2" to 2"
Hardwired power, no corded plug
Install using a licensed electrician
Consult with electrician/inspector before ordering
Designed for indoor installations only
1 year warranty