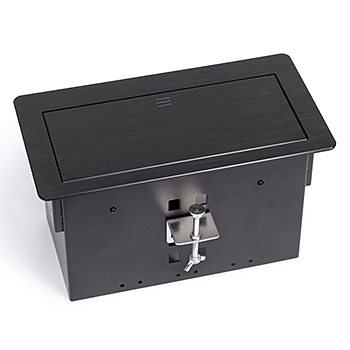 Lew Electric HCW Conference Table Box
NEW!
Lew Electric HCW Conference Table Box
A mid-size, stylish rectangular enclosure cable management system, fully customizable and offered in two striking colors,
Black or Silver
.
---
---
---
Product Description
LEW HCW Conference Table Box
The LEW HCW modular enclosure system offers style, form, and function in a mid-size rectangular box that is great for conference tables, classrooms, training facilities and lab tables.
The HCW cover is offered in two striking and durable sand blasted anodized aluminum colors, Black or Silver. The cover has a low profile on the tabletop and is fully retractable, providing easy access to power and data/comm options inside the enclosure.
Each color offers seven different cable management combinations to meet all application needs. Choose any combination of power, HDMI, USB or Cat 6 that fits within the framework of the inner plates. The receptacle is a 15A duplex with 2 USB charging ports (1 Type A and 1 Type C). The power cable is a single six-foot cord and the data/com connectors have female pigtails on the backside of the enclosure for easy connection to cables coming up from the floor.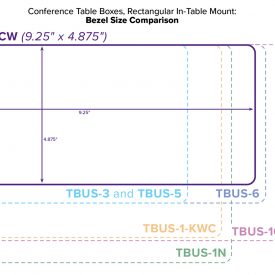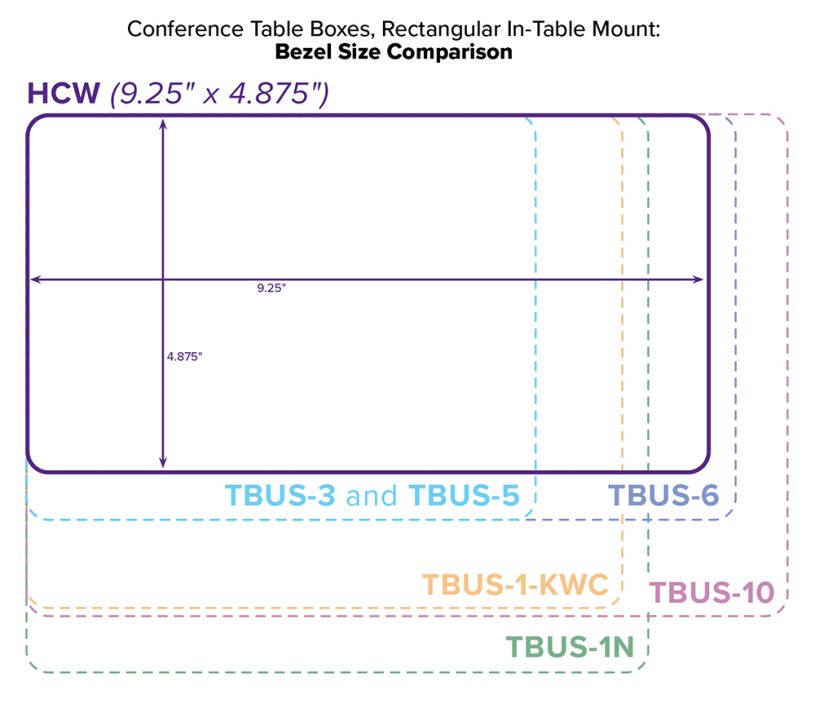 Installation is a quick and simple, requiring only one rectangular cut in the tabletop. No screws or glue are necessary to complete installation. The enclosure measures 8.375″ wide by 4.125″ deep by 5.25″ high. The cover is 9.25″ wide by 4.875″ deep.
Cut out template PDF: Lew_Electric_HCW_Cutout_Template
Black cover configurations
Silver cover configurations
Specifications
Color: Sand blasted anodized aluminum in Black or Silver
Power outlets: 2
USB-A charging ports: 1
USB-C charging ports: 1
Configuration options: HDMI, Cat 6, USB 3.0, VGA & Audio, USB-C, DisplayPort
Connections are female on the back side
Bezel size: 9.25″ x 4.875″
Depth: 5.25″
Cutout size: 8.38 x 4.14″
Works in tables up to 3.3″ thick
Fully retracting lid
One 6 foot power cord with 3 prong plug
All mounting hardware included
Configurable for future changes
Minor assembly required
1 year warranty
Certifications and Compliances
[wpv-woo-products-rating-listing]