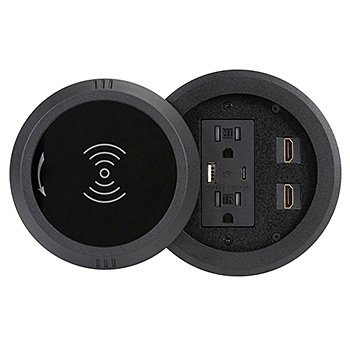 HCW-QI2
NEW!
Lew HCW-QI2 Round Conference Table Box
Easy to install round, compact box with wireless charging top, duplex/2USB (A+C) receptacle, and 2 HDMI,
Black
.
---
---
---
Product Description
New! Lew HCW-QI2 Round Conference Table Box
The Lew Electric HCW-QI2 is an attractive and compact round in-table enclosure with a wireless charging black top. The wireless charging cover manually slides to the side revealing a 15A 2-USB (type A and type C) receptacle and two HDMI connectors.
Installation is easy, requiring only a single round cut in the surface. No screws are necessary as brackets tighten from the bottom, holding the enclosure in place. Under the enclosure there is a six foot power cord and all data/com connectors have a female termination making connectivity simple and quick. The HCW-QI cover is 5″ round and the enclosure is 5.35″ deep. This unit will accommodate a surface depth of up to 3 inches.
Specifications
Color: Sand blasted anodized aluminum in Black
Wireless Charging top
Power outlets: 2
HDMI ports: 2
USB-A charging port: 1
USB-C charging port: 1
Connections are female on the back side
Bezel size: 5.00″ round
Depth: 5.35″
Cutout size: 4.5″ round
Works in tables up to 3.3″ thick
Fully retracting lid
One 6 foot power cord with 3 prong plug
All mounting hardware included
Minor assembly required
1 year warranty
Weight: 1.91lbs
Certifications and Compliances
[wpv-woo-products-rating-listing]