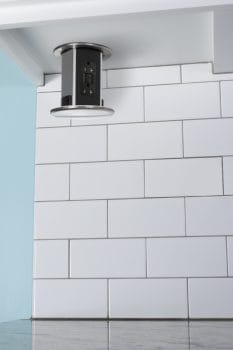 UCPDR-20-SS
Disappearing Under Cabinet Pop Down, 2 Plug 20A GFI Outlet, Stainless Keep your backsplash outlet free with the Lew Electric UCPDR-20-SS, it is an under cabinet pop down power outlet that hides in your kitchen cabinet. When closed, there is a round sea
---
---
---
Product Description
Disappearing Under Cabinet Pop Down, 2 Plug 20A GFI Outlet, Stainless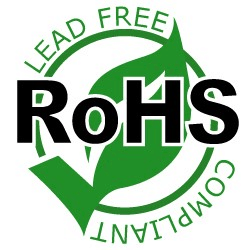 Keep your backsplash outlet free with the Lew Electric UCPDR-20-SS, it is an under cabinet pop down power outlet that hides in your kitchen cabinet. When closed, there is a round seamless solid piece of real stainless steel that hides under your cabinet trim, when pressed, the unit pops down 4 3/4″ and exposes the power outlet. When you are done, press the top till it latches shut and is back hidden under your cabinet, there are no buttons to push to retract the unit. The outlet features a 20 Amp GFCI rating, and two tamper resistant (TR) plugs.
The pop down was specifically designed to meet code for kitchen and wet location installations, it meets National Electrical Code (NEC) 406.5E for kitchen use in the USA and Canada. The outlet has tamper proof plugs and is UL listed, the pop up as a complete unit is ETL listed for USA installations, and cETL and CSA approved for Canada installations.
The pop-down couldn't be any easier to install and only needs a 3 3/4″ round hole to be cut in your cabinet, after you place the unit in the hole secure to the inside of your cabinet with the included threaded flange. To power, simply plug the end of the 1' cord into an outlet, and you have completed installation. The unit only takes up about the space of one drinking glass in your cabinet.
When not in use, the outlets are not seen under the cabinet. When in use, the outlet pops down just enough to make plugging in your small appliances easy. The 20 amp outlet can handle the most power hungry devices giving you the most power possible.
Keep your backsplash beautiful and free of outlets by using the Lew Electric UCPDR-20-SS, and hide them in your cabinets. The new great idea for a luxurious kitchen look.
Specifications
Color: Real stainless steel metal top
Outlet: 20 Amp GFCI
Tamper resistant (TR) plugs
Meets 2014 NEC code 406.5E for kitchens
ETL listed for USA, cETL listed for Canada
CSA approved for Canada
UL listed receptacle
Bezel size: 4 3/4" round
Cutout size: 3 3/4" round
Pop down height: 4 3/4"
Depth in cabinet: 9″
Works in cabinet thickness: 3/8" – 2 3/16"
1' corded 3 prong flat plug
Install using a licensed electrician
Consult with electrician/inspector before ordering
Designed for indoor installations only
Includes trim ring
RoHS and Proposition 65 compliant
1 year warranty
Drawings and Resources
Adobe PDF:
AutoCAD DWG:
Install Instructions:
Certifications and Compliances
[wpv-woo-products-rating-listing]