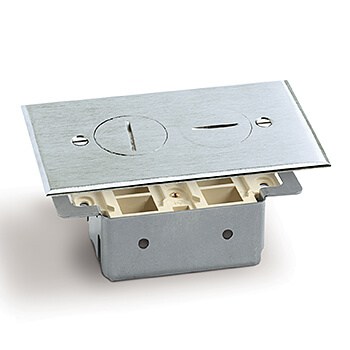 RRP-2-A-T
Quick Install Floor Plate, No Box, 4 Keystone, 2 Screw Plugs, Aluminum The Lew Electric RRP-2-A-T is a floor box that holds 4 keystone jacks (not included), the top aluminum plate features two screw plugs for secure access. The box is UL listed an
---
---
---
Product Description
Quick Install Floor Plate, No Box, 4 Keystone, 2 Screw Plugs, Aluminum
The Lew Electric RRP-2-A-T is a floor box that holds 4 keystone jacks (not included), the top aluminum plate features two screw plugs for secure access. The box is UL listed and features a water tight assembly and includes a neoprene gasket. The box is adjustable and can accommodate any thickness floor up to 3/4″.
To install you must use a 2″ x 3″ box with a 3 1/2″ depth (not supplied). The box may be attached directly to a sub floor or routed into finished floor. Installation screws are included to attach the box to the plate.
The Lew Electric RRP-2-A-T is an economical solution when you need connectivity in a small easy to install floor box.
Specifications
Plate: 1/8″ aluminum 2 watertight screw plugs 4 port empty keystone plate Must use your own back box Adjustable up to 3/4″ Attach to floor or route into finished floor Includes 1/16″ neoprene rubber gasket Includes plate screws Cover size: 4 5/8″ x 2 7/8″ Cutout size: Can't exceed 2 1/8″ x 3 1/2″ Warranty: 1 year
UL & NEMA RECOGNITION
Meets NEMA WD1-1983 heavy duty requirement for display receptacle
All receptacles tamper resistant; UL listing #E333616 (duplex); E237396 (single)
FEATURES & BENEFITS
Fits any manufacturer's 3 1/2″ deep switch box
Receptacle with neoprene gasket included
Water tight assembly
Adjustable up to 3/4″ to accommodate any floor
Certifications and Compliances
[wpv-woo-products-rating-listing]