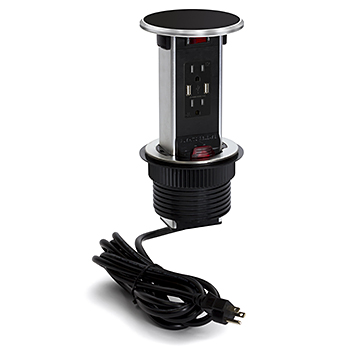 PUR15-BK
The Lew Electric PUR15-BK is a round countertop two power and 2 charging USB pop up with a black color top with chrome trim. The power outlets are 15 amps while the USB are shared 3.6A, they are smart USB charging ports and automatically adjust to
---
---
---
Product Description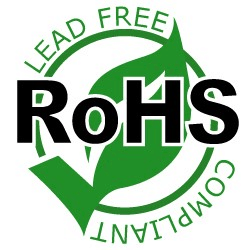 The Lew Electric PUR15-BK is a round countertop two power and 2 charging USB pop up with a black color top with chrome trim. The power outlets are 15 amps while the USB are shared 3.6A, they are smart USB charging ports and automatically adjust to the power needed of the device being charged. The pop up is IP54 spill proof rated making it an ideal choice in kitchens, bars, restaurants, airports, or anywhere you need power in wet or potentially wet areas. The PUR15-BK mounts in your countertop and features a black top, when pressed the unit pops up and exposes your 2 15 amp tamper resistant power outlets and 2 USB charging ports.
The spill proof top is IP54 spill proof rated, there is also a gasket under the bezel to keep liquid from entering. The Lew Electric PUR15-BK is a perfect solution when you need hidden power in wet locations or need protection against spills.
▢ Includes 75″ plugged cord and is not designed to be hardwired.

▢ For installation on counters, desktops or under cabinets

▢ For use in kitchens, offices, labs, etc.

▢ ETL listed to UL standard 1363: relocatable power tap that passes spill test.

▢ Not to be used in outdoor "wet" locations. Indoor use only.



Specifications
Color: Black with chrome trim
Two 15A power outlets
Two shared 3.6 amp USB smart charging ports
Tamper resistant outlets
ETL spill test rated
IP54 water and dust rating
Cover Diameter: 4 13/16″
In-Use Height: 6 1/4″
Under Counter Depth When Closed: 9 1/4″
Cutout size: 3 3/4″
Works in any countertop thickness
Power cord length: 75″
Warranty: 1 year
Certifications and Compliances
[wpv-woo-products-rating-listing]