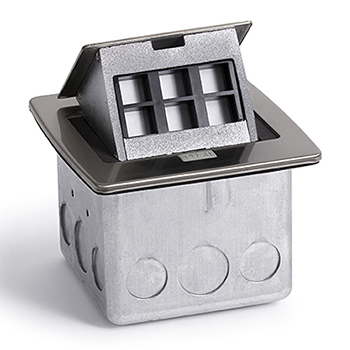 PUFP-CT-SS-6PORT
Stainless Steel, pop out counter top plate assembly, with 6 port Comm./Data device Great For: Kitchen counters, kitchen islands , desktops, home office, schools, retail outlets and hotel rooms. Key Features: Eliminates dangerous cords hanging from kitc
---
---
---
Product Description
Stainless Steel, pop out counter top plate assembly, with 6 port Comm./Data device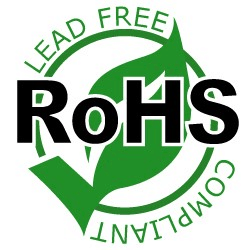 Great For: Kitchen counters, kitchen islands , desktops, home office, schools, retail outlets and hotel rooms.
Key Features: Eliminates dangerous cords hanging from kitchen counters. Now includes self testing GFI receptacles as standard. Solves the need to have power where a wall outlet is not possible in kitchen. USB models: plug any device into self learning chargers.
Specifications
All counter top plates 4 7/8″ W x 4 3/4″ L x 3 1/2″ H and include PUFP-WB box
UL recognized 498, 514A, 943, 1059, and NEC 210.52(C). CUL recognized 22.2 #'s 42, 158, and 18.1-04.
UL Listed Receptacle: E60120
Pops up when in use
Hides in the box when not in use
For residential or commercial applications
Installs in kitchen countertops, desk tops, tables, and similar surfaces
Scrub water tight construction
All PUFP style supplied with tamper resistant receptacles

Conforms to UL STD.514A and 498; Certified to CSA STD.C22.2.; No.18.1-04 and 42-M1984; LEW ELECTRIC FITTINGS CO
Certifications and Compliances
All of Lew Electric's PUFP series meet the 2014 NEC code for installation into countertops. While national electric code is a national code, individual states have the right to adopt or reject those new standards. Please click on the link below to see which standards your state has adopted. In addition to national standards, there are even more restrictive local standards that must be obeyed. Failure to do so will release Lew Electric from any and all liability. Always contact your local inspector and electrician before ordering and installing Lew Electric's Products.
PUFP Series Safety and Certifications:
Weather resistant (WR) outlet
Meets 2014 NEC code 406.5E for countertops
ETL listed for USA installations, # 4004534
cETL listed for Canada installation, # 4004534
CSA approved for Canada, #C22.2
Conforms to UL 514A and 498
UL listed receptacle, # E60120
Water protection: IP54 Spill proof rated top
Tamper resistant (TR) plugs
Gasket under bezel to keep water out
RoHS and Proposition 65 compliant
1 year warranty
[wpv-woo-products-rating-listing]